Our offer & programs

The company Stella Mediterranea is primarily engaged in the production of food, organic products and food supplement under the brands Stella Croatica, Stella Bio and Herba Croatica. 
Organized tours & workshops
Our ethno village, ecological orchard, olive grove, the aroma park, ethnographic collection and production facilities constitute a unity and make an ideal platform for the creation of this entirely new concept intended for the presentation of our region and Dalmatian tradition, as well as education in healthy eating habits, ecology, cultural and material heritage of Dalmatia.
Within our socially responsible business, we have developed the whole concept and program of interactive workshops and educational material for preschool and school children with the aim of familiarising them with Dalmatian cultural and material heritage, returning to our traditions as well as preserving traditional values and customs of our Dalmatian region for future generations.
For adults, we organise interesting tours of Stella Croatica production facilities and guided tours of our olive grove, aroma park, ethnographic collection of objects in three main rooms of a typical Dalmatian house (Komin – the fireplace, Konoba – the cellar and the bedroom) which are part of our beautiful and charming ethno village Zagora.
The tours are guided by a local hostess dressed in traditional Dalmatian costume, in Croatian, English and French.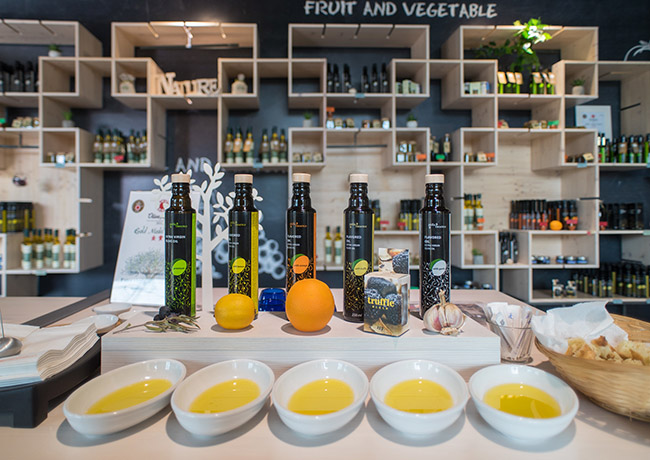 Olive oil tasting
Join us on a guided tour of extra virgin olive oil tasting! Learn more about proper olive oil tasting and consumption! You will discover the aromas and flavors of olive oils and compare them to those of tomatoes, artichokes, almonds and freshly cut grass. Along with olive oil, you will taste our traditional fig and almond desserts, green olive and pine nut tapenades, fruit spreads, local cheeses and wines, and more traditional specialties. Discover our one-of-a-kind olive oil tasting program, on the estate's central square, under the old mulberry tree…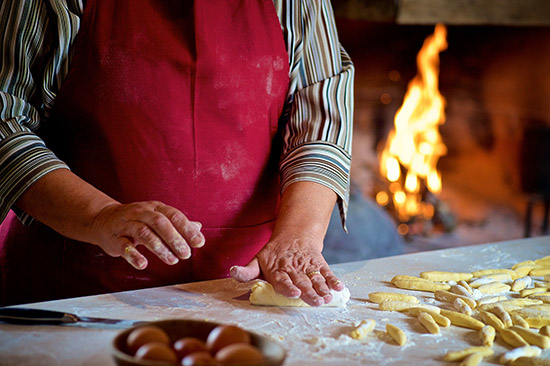 Culinary lessons
Learn more about the local cuisine – cooking traditional dishes using fresh ingredients and spices from the garden! After getting to know each other and taking a tour of the estate, we set out on a culinary adventure. Our host will present you the recipe and dishes you will make yourself. You will find some of the ingredients in our garden and learn family secrets to preparing a delicious meal. Do you know what collard greens (raštika) are? Learn how to consume this superfood in a modern variant! At the end of the workshop, taste the fruits of your labor in a relaxed ambiance, engaging all your senses!
We also offer the possibility of organising seminars, lectures and trainings in lecture rooms in the building of Herba Croatica. For additional information, please click here:
For further information regarding guided tours, workshops as well as the possibility of organising different events according to your needs, please fill out the form below and we will contact you as quickly as we can.